This are the elrow themes for the entire 2022 season
elrow family clearly masters the art of party-making. They know exactly what are the key ingredients to make a their parties stand out like no other. Shows, music, colour and happiness, essential elements of elrow's DNA, all mixed together to create that unique and wraparound experience.
This summer, elrow returns to our house, from May 28th to October 1st, with a total of 19 dates that will transport you to different and unimaginable worlds:
Bowsque Encantado
Nature bursts into life. A charmed life seen through multi-coloured lenses. Walk along beautiful paths until you reach the forest of Light, feasting your eyes on the flowers and plants around you. Roaming packs of unicorns and raindrops of many colours await you. And if you lose yourself in the eternal labyrinth and become entrapped in its depths with its terRowble spider webs, only the special powers gifted to you by the fairies will set you free.
Psychrowdelic Trip
Jump into the wildest hippy commune ever, shout make elrow, not war, feel the good vibes from Goa, Ibiza, San Francisco and get those bare feet dancing to the sixties beat. Hug a tree, hug a flower, hug whatever and whoever, as long as you spread a bit of love and laughter.
Rowlympic Games
You're in Julius Caesar's Rome (pretty much like today, minus the tourists and pizza houses, and everything's just a little bit newer), where you'll find all your usual Olympic gear: Olympic flames, torches, rings, vaulting poles and a whole lot of weird stuff your average athlete goes wild for.
Singer Morning
A weird, comic book combination of music, people on stilts, bouncing balls and whatever else you can imagine – if you're as crazy as we are – is the excuse to look up at the sun (yeah, we said sun) and say what the f**k am I doing here surrounded by absolute madness and friends. And if you need an answer you've probably walked into the wrong party.
Brownx
You're a tourist in NY, you get lost in the metro and get off on 231st St. And you soon discover what party time, Bronx style, is like. From an abandoned subway car covered in graffiti, our DJs rule the show over gangs from the hood, illegal fights, mafia wise guys, break-dancers, ghetto nails and our rap crews that keep the word alive with some serious battling.
Rows Attacks
Our interstellar station with its huge rocket will blast you straight to RowsAttacks. During the ride you'll be accompanied by flying saucers full of space creatures and other assorted astronauts. And an amazing universe full of new galaxies, planets, satellites and stars await you.
Nowmads
Today's a drag and the future sucks, so you ask your blue cat to open the star gate it keeps in its little magic pocket to check out if the past has anything cool to see. You turn it on but as usual you touch something you shouldn't and cause a rip in the fabric of space and time that shoots you into a new world where stone-age cave dwellers, medieval dudes, Bedouins, Egyptians and even two-metre high blue space people all get mixed up into one wild never-ending party. Find the star gate, open it up and time travel your way to a parallel world of the past, present, and future.
Chinese Row Year
Take a walk along the great wall – or, as it's known here – 'The wall of the hundred thousand Li'. From the ramparts, far off, you'll see a beautiful pagoda and beside it the Emperor's grand temple. The new moon will guide you through the crazy Chinese bazaar, all the whilst you experience the red lantern festival. It's impossible to imagine. You'll dance amongst sacred dragons under hundreds of lanterns and parchments covered with hand-drawn calligraphy. The all-powerful and terrifying monster Nian and the God of Good Fortune will also be there in full force.
Triángulo de las Rowmudas
Craken the sea creature and our pirate ship are the big stars of this new show. If you're on the same wavelength as we are and can decipher our elRow Treasure Map, you'll find your way to the Party of Eternal Happiness: a secret island with a community of travellers dancing beneath the waves among sea creatures, old sunken airplanes and rusty shipwrecks. And even though you'll find us on the seabed, we'll be enjoying a good dose of sun, sandy beaches and palm trees.
Kaos Garden
Immerse yourself in a surreal universe with kaos stars to guide us on our way, multicolored skulls that open at our pace, boats that fly to put down roots, flying mountains, trees, birds, unicorns and mermaids. A place where reality and fantasy, the lived and the dreamed, the beginning and the end, are your choice and your destiny.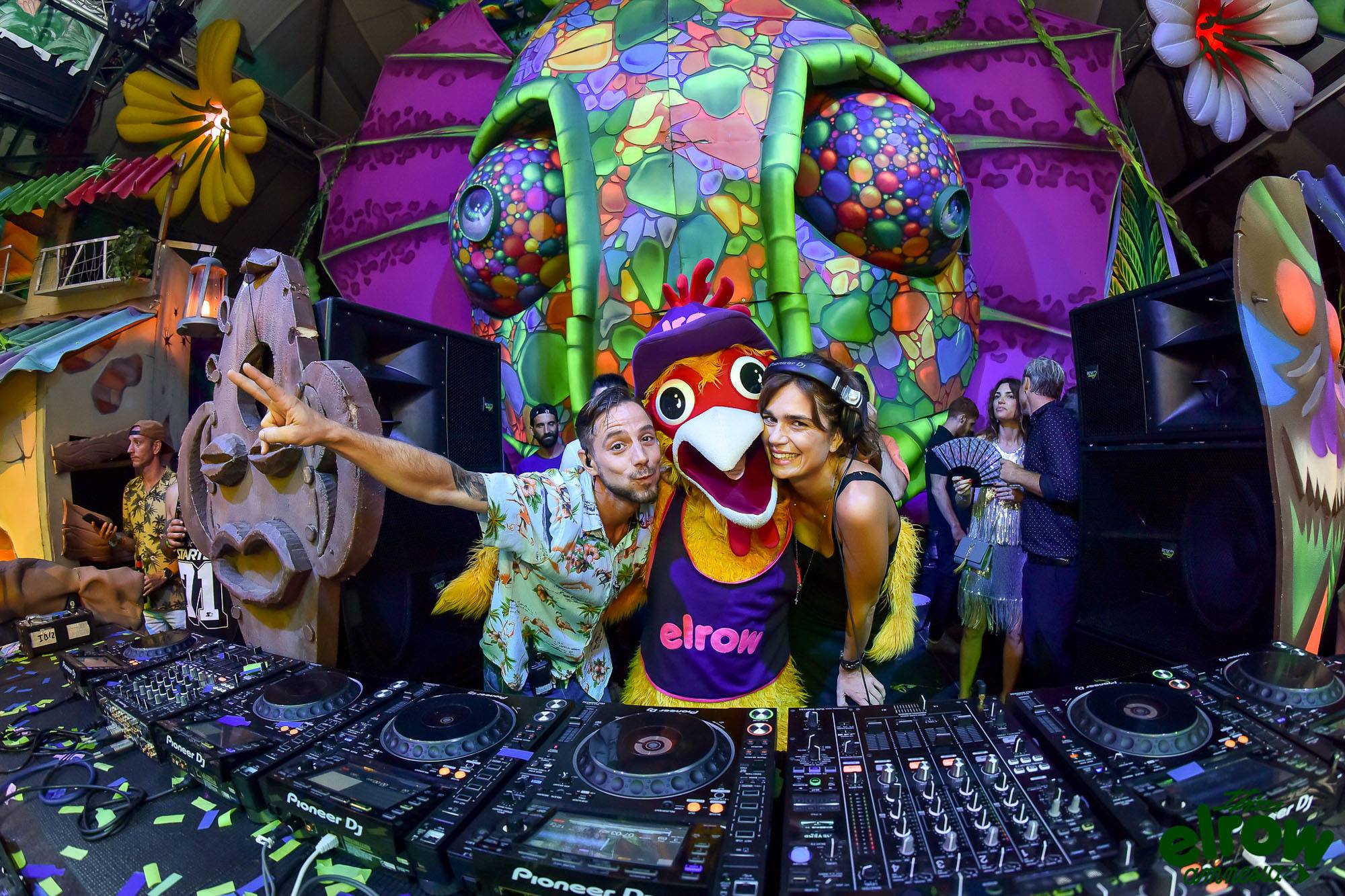 Sambowdromo Do Brasil
Bring your jungle camouflage because you'll be in the thick of one. And don't worry if you get lost too, because you'll be surrounded by tropical fruit at every step. But don't think you can just lie back and relax, because if a Brazilian street party is wild, just imagine how they mix it up in the middle of the jungle.
Growenlandia
Welcome to our world below cerow. Glaciers, stalactites, snowy caves and huge icebergs in the middle of huge snowstorms. From the chairlifts, you'll spot a beautiful, glimmering aurora borealis, shining with green and blue shades that will totally wow you. Hop onto your board or your skis and visit the igloo village and go fishing with them. Get to know Nilak, my Mammoth, who, as usual, will be in the DJ cabin.
Horroween
This is most frightening, macabre and chilling House of Terrowr ever seen in the history of cinema. Victoria's home is between the library and the derelict hospital of Rowbelan city. The only way to get there is by going through dark tunnel of terror and running for your life through pumpkin garden until you reach the enchanted wood of spider-webs and dead trees. And there, right in front of you and the family graveyard you'll find the ROWEEN mansion. Let the show begin! From the entrance right up to the attic…. madness awaits!
El Rowcio
Spain knows how to throw good party and in our Rowcio the weirdest, wildest and most outrageous party lovers come together to eat, drink and be as amazingly merry as they can. It's infectious, addictive and awesome, with passion and style filling the dancefloor full of fun, flirtation, flamenco and fiesta. Two tips, watch out for the bulls and stay close to the ham!
Far Rowest
Duels at dusk, fierce inflatable animals from the prairies, the Saloon, tipis, the town bank all form part of Old elrow, our wildest and most hardcore town in the West. Good guys get to see the mines, baddies go straight to the Sheriff's jailhouse.